The Final round of the Colin Rolls Trophy 2019 was played on Sunday in weather much better than endured in the ESA Cup a day earlier. Yet again there was a good attendance of 40 golfers but the balance per teams was not quite so even ranging from 3 to 7 pairs per team. All participants received a sleeve of golf balls from the sponsor Aurora.
The Foursome format is often a challenge as each flight shares one ball. This however is beneficial to allow a shotgun start. Six holes had 3 flights and one hole had 2 flights which allowed for a good pace on he course as there were 2 free holes.
There was a wide range in scores with the exceptional score of 38 by Nely Borst and Hanna Jones of The Mulligans, followed by Joe Pereira and Ronny Boer with 35 points from the Babes and Boys. Both of these scores were important to the overall standing as the Mulligans moved from 4th place to 2nd on 293 points and the Babes and Boys were this year's winners on 300 points. Friday's Men also had 293 points coming 3rd and last years winners Andy Caps slipped to 4th place on 289.
Alex had great pleasure to hand the Colin Rolls Trophy to Clare the captain of the Babes and Boys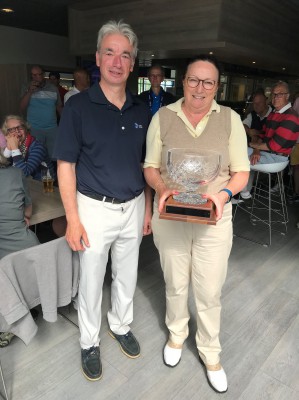 Then the Babes and Boys celebrated with their prizes a bottle of wine each.

Reno kindly put together the full results below. Happy golfing for the rest of the year.